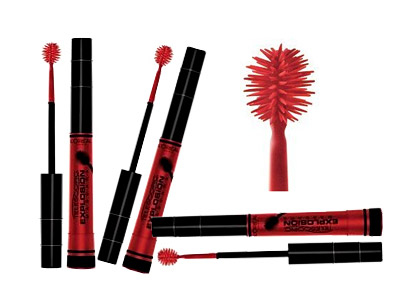 I am sooo excited about a new makeup find I have made.
This is honestly one of the best mascaras ever! I usually have a hard time finding ones that I like. For example, last fall I think I had about 5 different ones because I couldn't find one that was better than the rest. This summer I thought I had found a good one, until now.
The one I previously thought was excellent was the Telescopic mascara by L'Oreal. It advertised that it would increase eyelash length and it did! One time I even got asked if they were my REAL eyelashes by a complete stranger. awesomeness. Well, just this week I went to the drugstore just to browse and saw that L'Oreal had come out with a new mascara, it's still the Telescopic kind but a different version; Telescopic Explosion mascara. I thought it was cool because of the unique brush. They claimed that it would lengthen, thicken, and seperate your eyelashes and that it would look "fanned out" for a wide-eyed look. I thought ok well how many times have I been tricked by advertising before. Alas...I never learn my lesson and bought it, only to be pleasantly surprised. Everything it claimed to do, it actually does, if you believe it or not. Usually with other mascaras I have had to use my eyelash curler constantly throughout the day. I was thinking hmm maybe it's my eyelash curler that's the problem, and it needs to be replaced. I am fooled no longer. With this mascara I haven't had to use the eyelash curler more than once. It has stayed put all day and my eyelashes look amazing. I have kept touching them throughout the day, because I am just amazed at how well it's holding up (it was even raining today! and I didn't use my umbrella to cover my face!). I highly recommend this mascara, it is pure amazingness.